When keeping your rabbit pets outside then a rabbit hutch is a nescessity.  A safe, comfortably appointed, spacious hutch is one of the most important critiria when selecting a hutch for your pet, because it keeps your fuzzy friend inside and protected from all sorts of hazards
The TRIXIE's Rabbit Hutch with Sloped Roof is perfect for your dwarf rabbits. This hutch has two-story and a retreat area on the upper level. The option interior hatch door allows owners to restrict access between levels if needed. The non-slip ramp gives your rabbits to roam freely inside and outside,in the sun or in the shade for ideal comfort, upstairs and downstairs access . Wood paneling at the back offers additional protection for the hutch.
For easy maintenance and cleaning, it includes a pull-out plastic tray and a hinged roof with locking arm that can be opened from the top. This Solid wood construction, glazed pine finish, and sturdy materials mean this hutch will last for years with very little maintenance.
The dimensions of the hutch: 41 x 21 x 38 inches.
Door opening: mesh 22 x 16 inches; wood 10 x 16 inches.
Weight: 55 lbs. Color: glazed pine.
One year warranty.
Special Note: Water bottle and bowl not included.
You can find more information about this fine hutch HERE
Overview of the hutch: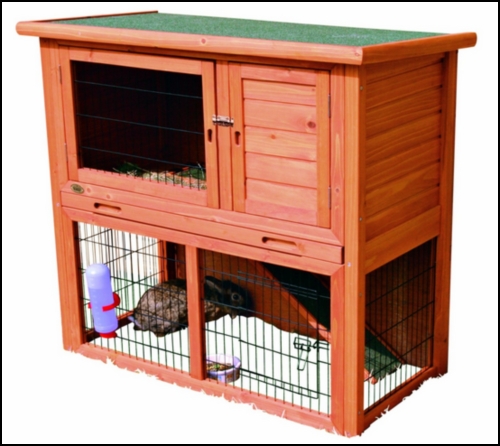 The upper level of the hutch: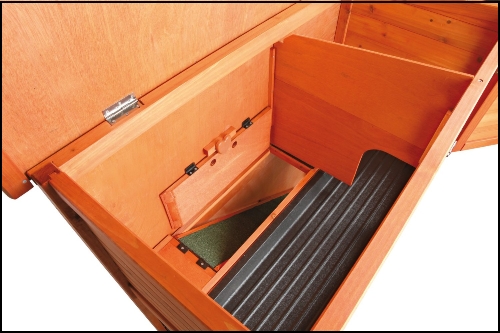 A hinged roof and doors: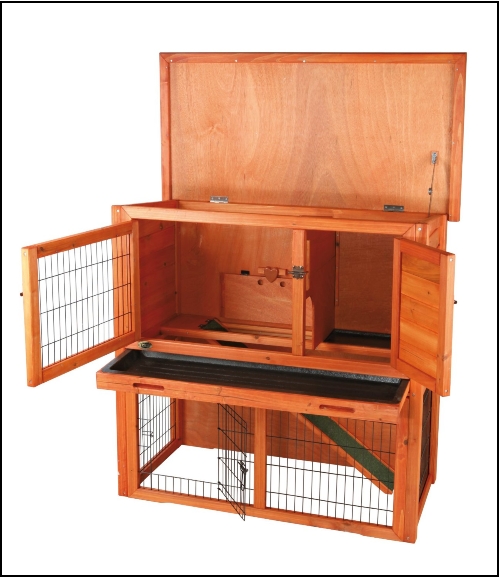 Where to buy and How much does this hatch cost? 

Peter's Woven Grass Mat:
Once you decide to get the hutch for your dwarf rabbits, don't forget to get this Peter's woven grass mat for your pet. It  is the ultimate in natural grass cage accessories, that protects your pets sensitive paws from wire cage bottoms and is safe for your pet to chew.

Peter's Woven Grass Pet Bed:
Your rabbits will use this as a bed and a snack too. they loved it and may last for a month before completely ate up! so make sure you order few spares